I think that is a great idea, Mum! my cell phone budget will certainly be much better off. lol
last night after Chris got home from magic, we went to the Wyomissing Diner for dinner. I got balsamic chicken, which was really good. it was a Saturday special; I hope they have it again. Kyle came over afterward to play magic with Chris, but he didn't stay very long.
I am feeling much better today!
we got up at a decent time and went grocery shopping. it was unreasonably hot, but it went pretty smoothly. after that, we decided that the best thing to do with a beautiful, warm spring day would be to spend it underground. we would go to
Crystal Cave
!
we stopped at
Sheetz
on the way to get pretzel roll sandwiches, which I have been wanting since Thursday. see, on Thursday we got
Isaac's
for lunch at work, and I had their Twisted Chicken sandwich. I have always loved pretzel rolls, but this reminded me that I had better eat more of them - they are too awesome to pass by. so instead of getting $9 pretzel sandwiches at Issac's, we decided to get $4 pretzel sandwiches at Sheetz. it just makes sense. Chris also showed me that Sheetz makes made to order coffees,
and
that they have chai. I might just have to brave the traffic and try these delicious coffees.
so anyway, we made it to Crystal Cave without any incidents.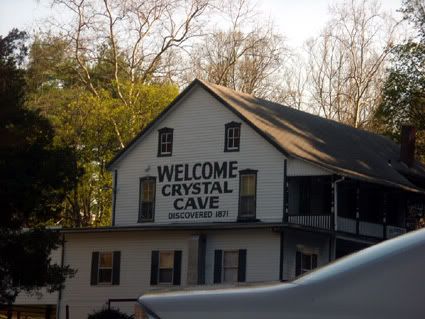 we had to climb up a hill and a lot of stairs to get to the actual cave. it made me realize just how terribly out of shape I am. like, seriously. my legs were burning and I was out of breath from two ramps and two flights of stairs. goodness. but eventually we made it.
we had to wait for about a half an hour for our tour. just our luck, there was a family there with eight kids. no, seriously, there were eight. I counted. they were running around, screaming, being a general nusance. the oldest was probably about eight or nine, the youngest was barely walking. but that didn't stop her from running headfirst for the hill we had just climbed. and the parents paid absolutely no attention. the older kids saved her from certain doom about three times before they finally handed her off to their parents. two other couples with two kids each also showed up, as well as a reasonable couple without any children - much like us.
seriously, though, it is just our luck to wind up on a tour with twelve kids. I'd like to say that they were quiet and well behaved, but that would be a lie. they were loud and slow and in the way. but we had a good time anyway. unfortunately, my newly-charged batteries died after only one photo of the cave.
it's a nice enough picture, but I wish I could have taken more. oh well. then we went to the gift shop and bought some hematite magnets. I think they are super awesome. now I just need more things to hang on the refrigerator...
we had some delicious mini flatbread sandwiches for dinner and played a little FFXI, then Dustin came over to play stupid magic with Chris. it's okay, though, we can check him off the list of people who haven't visited our apartment. we still need to get Kim, Steve, Shannon, and Bobby.
today was a good day. it totally made up for the mostly miserable day I had yesterday. I am quite pleased.