here it is, the long-awaited Gamesday entry! and only a week after the actual event!
so we left Friday evening instead of Friday afternoon because Shin was late. the traffic was pretty bad since the highway was, for some reason, down to one lane.
I killed some time taking pictures. Steve was driving.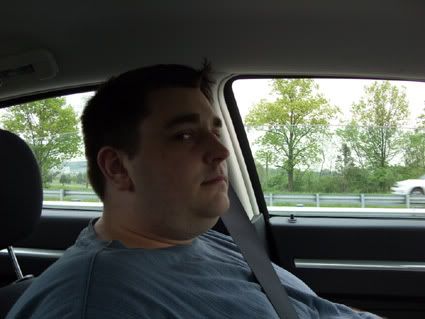 Chris was in the back.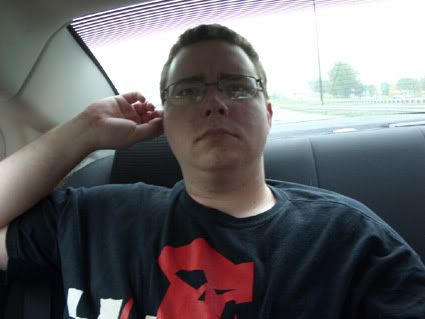 I rode shotgun.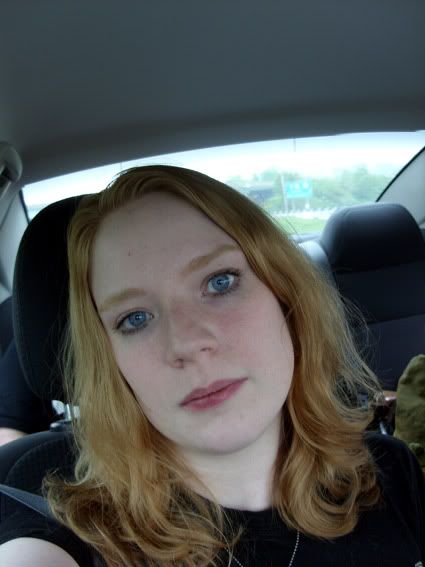 we relaxed in the
hotel
room for a while.
that's my butt behind Mike.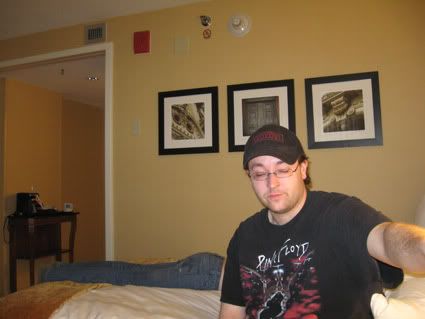 we decided to go to
The Nest
for dinner.
the weather looked iffy, but it held out for us.
Steve and Mike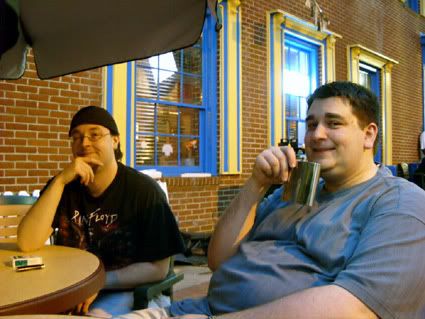 Kyle and Chris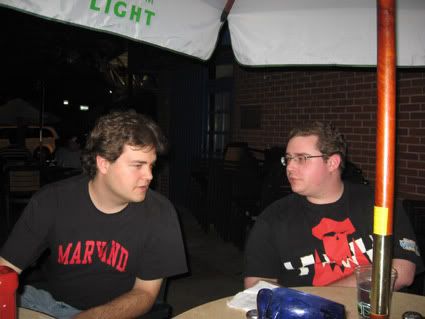 Shin and I. you can tell I am totally not drunk at all.
Kyle and Chris broke out some cigars.
Mike and me and Shin, with Kyle in the background. I really like this picture!
Shin and Mike at the harbor...
we can tarnish the honor of anything.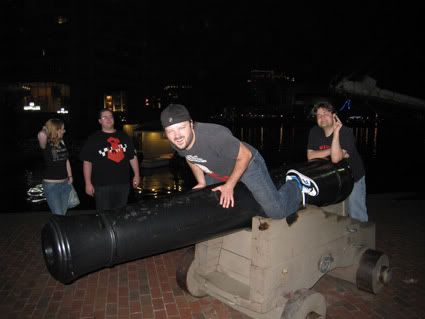 wandering around the inner harbor.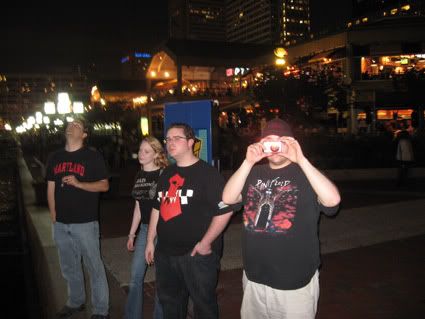 we all sat down to look out over the water.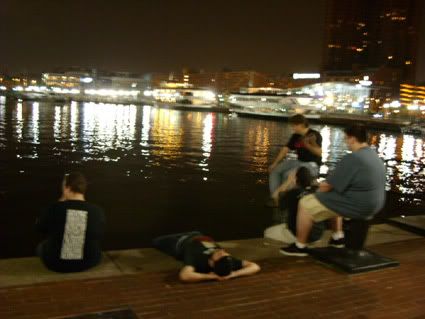 Chris and I.
the next day, I realized that I had forgotten my mascara and hair brush at home. so Kyle and I had to walk several thousand blocks (google maps tells me it is .5 mile each way) to the CVS to buy some. I didn't take pictures of this because I was too ticked off. but let it be known that I was already awake and had walked a mile by 9:00 AM. after we got back and I made myself presentable, we headed to Gamesday. because of me, we were running late, so we didn't get breakfast.
the line was pretty long when we got there, but I'm not sure what those people were waiting for. we went around them and got through the line in no time.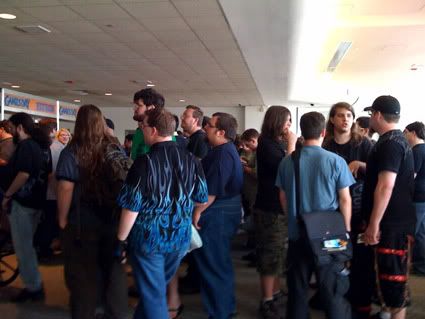 we spent most of the morning in line at the store. I spent a whole crap ton of money, it was pretty impressive. while we were in line, we saw a big squig get rolled by, but we didn't realize until later that it was a cake!
apparently the
Ace of Cakes
guy made a squig cake for Gamesday. Awesome!
we were pretty well starved by the time we had bought all our things and fought the crowds for pictures of the cake, so we went to Quiznos for lunch.
afterwards, we had to sit outside and wait for Kyle.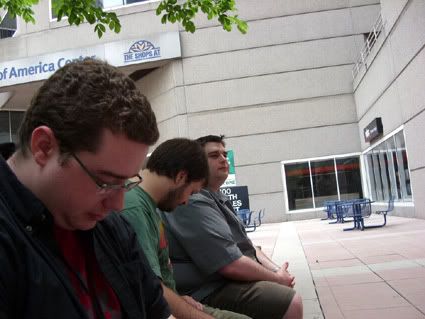 Kim came this year again, which was awesome.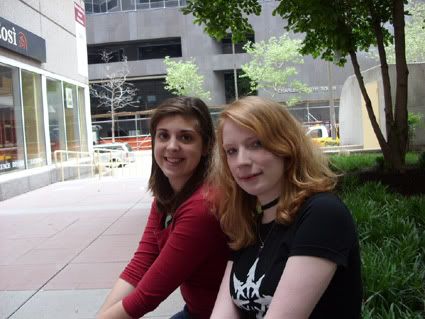 during this down-time, I finally remembered to take a picture of the chaos symbols Kylie had painted on my nails.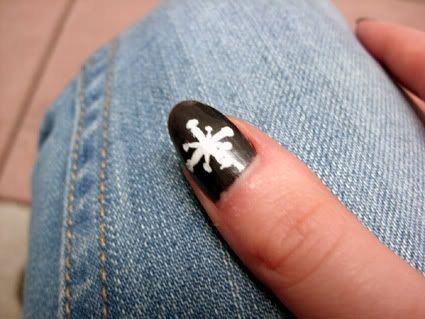 even though it was supposed to rain, the weather was beautiful.
here's a picture of the crowd inside.
someone built a huge ork thing of some sort.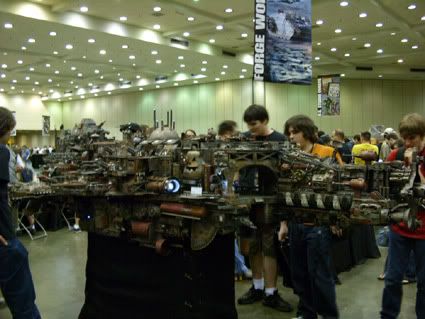 I'm not sure what it is exactly, except that it flies, but it is pretty nifty none-the-less.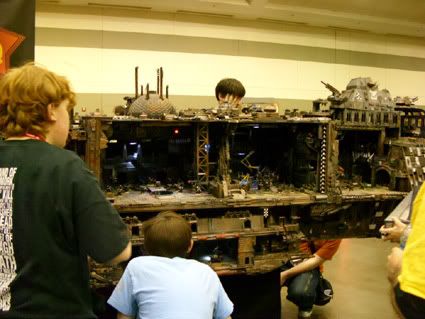 there was a guy at the conversion contest that I caught cheating - he had a whole bunch of sprues under his feet. I couldn't bring myself to report him, so Steve stepped in and took care of it. it was awesome. I didn't take any pictures of this, either. here's the end of the costume contest. this is the guy who ended up winning, even though you could tell they really wanted to give it to the little kid.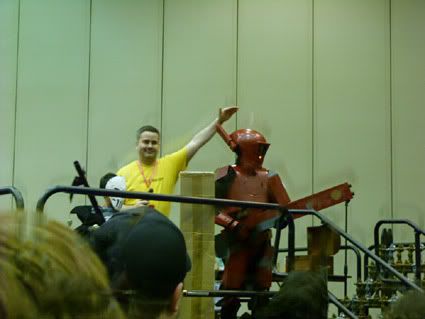 we went to dinner very soon after dinner, even though most of us weren't hungry yet. we went to
Tír na nÓg
, which is a pretty nifty place.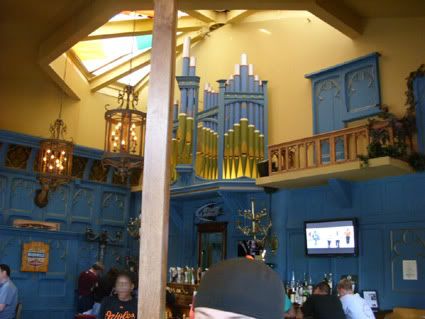 Chris and Shin are retarded.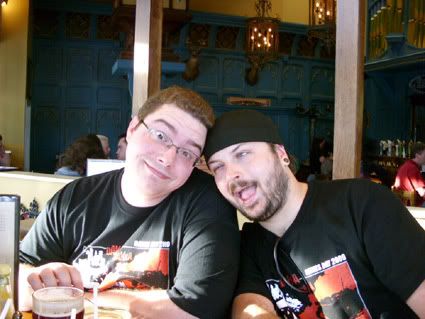 Steve and I shared some "chips".
Kim and Dustin paused in their bickering to smile for a photo.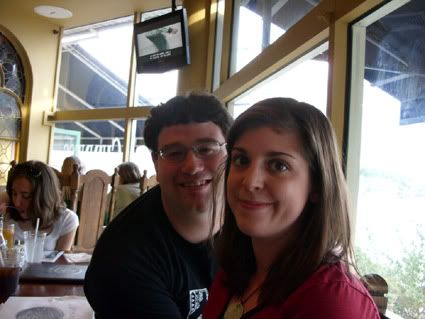 Mike looks like he was having an awesome time.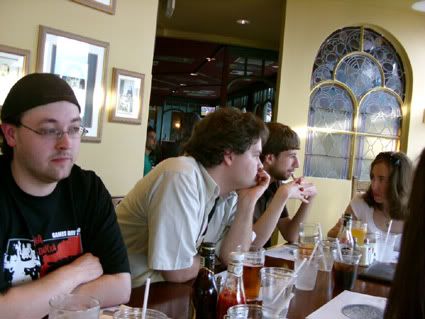 there were some guys performing outside. it was entertaining to watch the crowd trying to dance.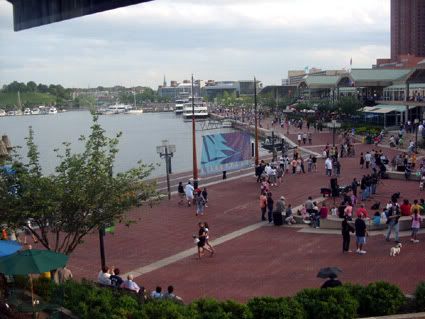 after dinner we had to wait outside for a while. I am not entirely sure why.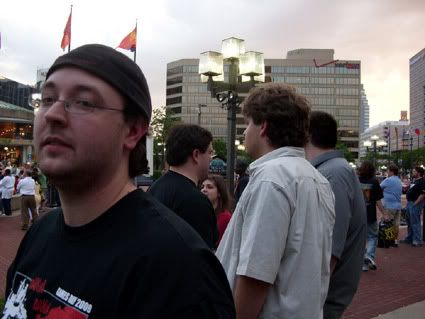 when we finally got walkin' again, we came upon a prom. we took pictures because we have somehow become creepy old people. we also critiqued their dresses.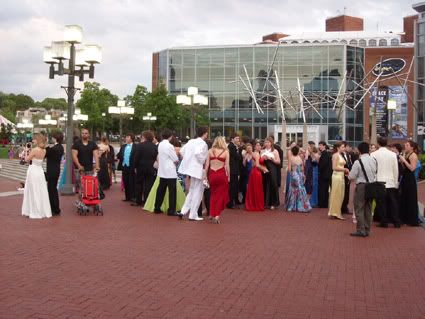 after that we went to the
Ben and Jerry's
stand. I got some oatmeal cookie chunk ice cream, which was really good. better, even, then the stuff at Cold Stone. it was legen-DAIRY (happy now, Steve?). then we went back to the hotel, which was really boring. so me and Chris and Shin and Kim went out to the bar. yeah, I know, pretty crazy turn of events. Kim got drunk in a hurry, which was really funny. unfortunately, I don't have pictures of this either.
eventually everyone else stopped being lame and came out with us, but I got a migraine and went to bed by midnight. while I was asleep, Mike lost his hat on the roof of the parking garage (don't ask questions, it is easier that way). in a hair-brained plot to rescue it, Shin lost his shoes.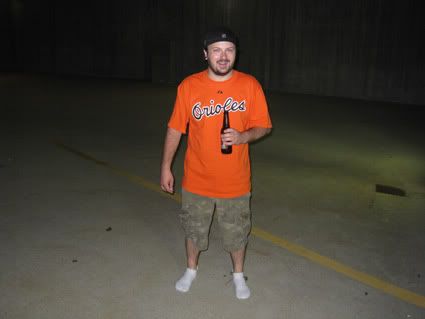 we took pictures of them the following morning.
before leaving Baltimore, we had some chinese at the
Gallery mall
.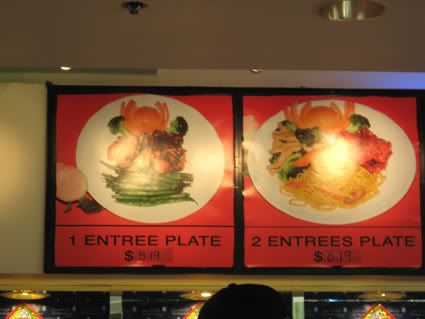 on the way home we stopped at Cracker Barrel.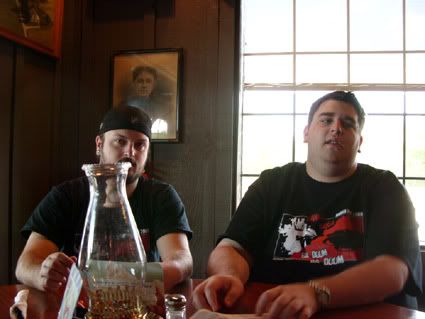 we were mostly very tired.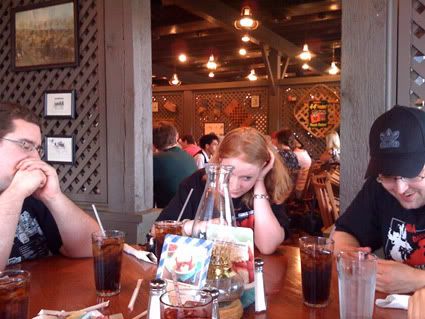 we all took turns with the stupid peg game. I have apparently lost any skill with pegs that I ever had.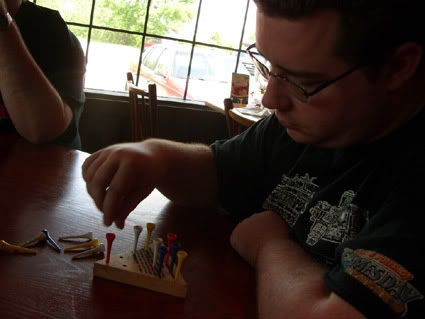 Shin looked pretty cool on his motorcycle (and was driving me nuts with his death-defying stunts) so I took a picture.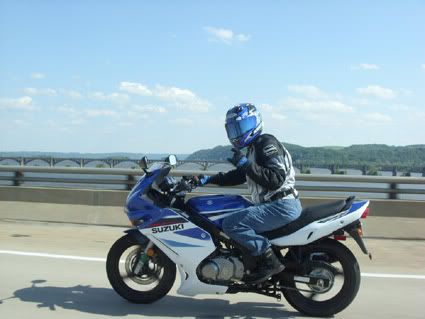 and that was the end.