went to the ren faire yesterday. this is what greeted me: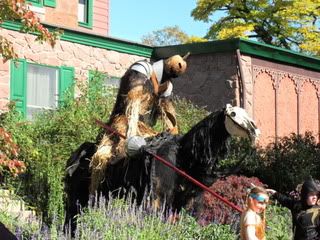 for those of you who don't know, horse skulls are just about the scariest thing in the world to me. it took of courage to take this picture from across the courtyard. yeeesh.
but yeah, it was a great day to go to the ren faire. the weather was wonderful. I was really impressed by the whole halloween thing this year. they had a whole lot more decorations and themed things. usually there isn't much of a difference between regular ren faire and halloween ren faire. I mean, come on. check this out:
pretty awesome, huh? we had a good turnout, too. it was me, Chris, Kylie, Kylie's Mike, Steve, Bobby, Shin, and Kyle. we finally got Shin to come with us after four years of trying. he even slept over at our apartment, just to be sure that he didn't oversleep.
after the ren faire, we went over to the new house to put in smoke detectors and check out the new railing (which looks awesome, by the way). being in the house made me more excited, but it also made me a lot more afraid. a whole house is a whole lot of thing to own. like, a frighteningly large thing to own. terrifying!
we also packed up a lot of things yesterday. we've got a pretty good dent in it, which is good, since we are moving in three days. I thought we should stay home and pack, but Chris insists we can get everything done on Tuesday and Wednesday. so here I am at SteveMikeBobby's, drinking tea.
as a side note, my space radio has a
halloween station
for the rest of the month. this is super-exciting to me. also,
pumpkin pie blizzards
are the best thing ever invented.