this week has been much better. I am feeling more myself, which is nice. and it is August now, so hopefully all of my bad feeling will stay back there in July. keep your fingers crossed.
yesterday, Kim and Dustin had a picnic on their newly-stained deck. my contribution to the menu was Herb Dip. I was running a little behind schedule when I made it (shockingly enough) so I didn't get to take any pictures of the mixing process, and it really isn;t much to look at in its finished form - just some yogurt with a bunch of herbs in it. but let me tell you, it is amazingly delicious. I cannot get enough of it, I think I'll probably have some in my fridge at all times from here on out. seriously. here's the recipe, in case you were wondering:
Herb Dip
8 oz plain yogurt
1/8 tsp dill weed
1/4 tsp garlic powder
1/4 tsp oregano
1/4 tsp basil
1/2 tsp chives
1/2 tsp parsley
1/2 tsp thyme
dash of salt
just mix all of those things together and you are set. I used some herbs from my very own herb box - how exciting!
I also took some chips to the party which were too weird not to mention. I saw them at target when I was bra shopping with my mum (hooray for new bras that fit!) and I couldn't
not
buy them.
Archer Farms
makes Macaroni & Cheese and General Tso's flavored potato chips! can you believe it? the Macaroni & Cheese were good, but they didn't really taste like macaroni and cheese. the General Tso's, though? I thought they were pretty dead-on.
the party was a lot of fun, and the food was amazing. I would just like to say again how much I enjoy these friend (as opposed to family) picnics. they make me feel like a genuine adult, which is a pretty weird feeling.
we went bike riding again on Saturday morning. this time Chris came along, since he got a new bike Friday night. Chris and I went about the same as last week, about 5 miles. I was feeling fine, but Chris was pretty tired so I went back with him. Steve went on without us for 12 miles. he's really quite impressive. I am glad, though, that I was not tired after 2.5 miles this week. that means it must have been the heat and depression that stopped me last week, not some sort of muscle degenerating disease. hooray!
last night, as I was going to bed, one of the slats holding up our mattress wiggled free and fell on Mako. he is now afraid of everything that moves or makes a sound and he refuses to go upstairs. he doesn't seem to have been hurt, just terrified. it is pretty funny, the way he is jumping at every single sound and motion, since he has been entirely fearless up until this point. but I hope he gets over it soon, his fearlessness was one of my favorite things about him.
here is my sketch for this week. again, it was inspired by a book we were listening to at work:
Dance Upon the Air
by Nora Roberts. honestly, it was pretty bad, but that's what we were expecting. we like to listen to ridiculous romance novels just to get ourselves angry. but anyway, here is the sketch.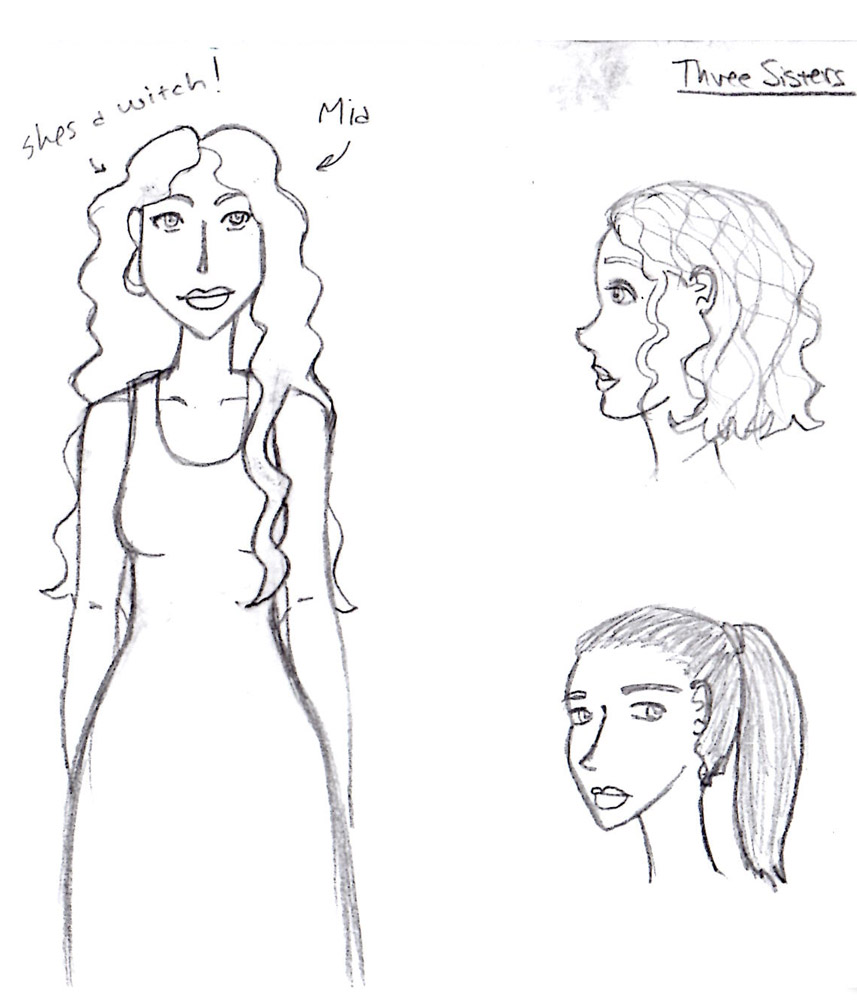 but yeah, I am hopefully going to be updating more often around here. I am trying to get my new organization plan underway, and I want to get some reviews written for my two challenges. I have finished books, I just haven't bothered to blog about it. so wish me luck.